This page has been visited

times.

Inside:
The River:

pictures of the Colorado from within its gorges in the Grand Canyon.
---
Flowers:
see the Canyon in bloom!
---
Critters:
some of those who call the inner canyon home.
---
Comet Hale-Bopp:
views of the comet from the inner Canyon.
---
Canyon Nights:
especially in winter, it doesn't take a comet to make them spectacular!
---
Assorted Canyon Snapshots:
A hodgepoge of pics from around the Canyon.
---
Canyon Links:
places on the web to learn more about the Grand Canyon
---
Elsewhere in the Southwest:
a few random shots from around the area. More to come!
---
A brief Message from our sponser:
Guess who!

Nicole's Grand Canyon Site
A hiker's photo essay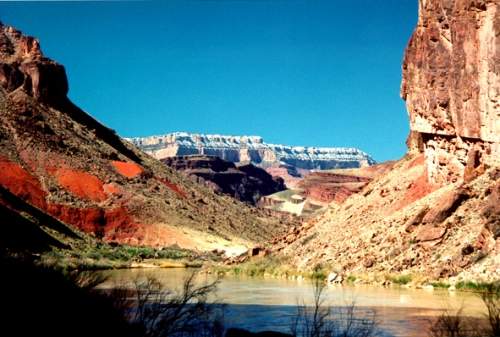 Grandview Point, as seen from the river east of Red Canyon
The Canyon and Me
This site is dedicated to views of the inner canyon. Views from the rim are spectacular, and they might give you a better sense of the sheer enormity of the place. But from the first time I stood there, something drew me in, made me want to see it up close. Even though I hadn't gone backpacking or rock climbing in years, I had to get down there. The canyon also inspired me to take up outdoor photography, and soon after my first hike I found a camera at a yard sale near Flagstaff. This site is a collection of some of my better shots as a late-blooming amateur.
I feel immensely privileged for the time I've been able to spend in the inner canyon. Not everyone can go there, and not everyone who does has the time or physical ability to go on extended hikes below the rim. So I created this site to share some of my experiences of this amazing place with family and friends, who may never have the chance to see it for themselves.
I hope some of these photos give you a sense of the awe I've felt in being there.